Excellence Program Overview
PROF. DR. MED. DENT. R. JUNG
UNIVERSITY OF ZURICH, SWITZERLAND
Discusses the clinical advantages of the one-piece zirconia implant, and explains when a zirconia implant would be beneficial to a particular patient.
He also leads the CERALOG® virtual classroom lecturers' team.
Prof. Dr. med. dent. I. Sailer
University of Geneva, Switzerland
Presents the ceramic and hybrid abutments, in terms of the different materials, their stability and types of connections.
Prof. Dr. med. dent. F. Beuer
University of Berlin, Germany
Explains the techniques of taking impressions on one- and two-piece implants using either conventional or digital methods. An overview on restorations on one- and two- piece implants is provided with a focus on cementation.
Prof. J. Chevalier
Institut National des Sciences Appliquées de Lyon INSA, France.
Introduces the types of ceramics for implants available, with a focus on stability measured over time and under different temperatures.
M. Knackmuss
Senior instructor by CAMLOG
Explains the different impression taking and restorative options of the CERALOG® system with Monobloc or Hexalobe implants.
Oral Surgery University of Milan, Italy
UNIVERSITY OF MILAN, ITALY
Demonstrates the surgical steps using different clinical cases with the CERALOG® Hexalobe, 2-piece implants.
He will lead CERALOG® virtual classroom in Italian.
Dr. L. Wiggers
HENGELO, NETHERLANDS
Describes the detailed surgical processes of the CERALOG® Monobloc via selected photographed clinical cases.
He will also lead CERALOG® virtual classrooms in Dutch.
Prof. Dr. med. dent. C. Hämmerle
University of Zurich, Switzerland
Offers an overview of the one­piece implant and looks at osseointegration and long­term clinical predictability.
Dr. F. Hermann
Zug, Switzerland
Offers an overview on the zirconia two­piece implant, their use in surgery and the specific aspects of the abutment connection.
He will lead CERALOG® virtual classrooms in German and English.
Dr. F. Baudot
Dentist- implantologist in Saint-Gély-du-Fesc, France
An expert in laser micro­surgery and a founding member of EACim academy.
He will lead CERALOG® Virtual classrooms in French.
INTERNATIONALEN VERANSTALTUNGEN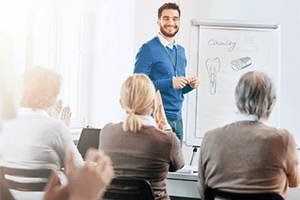 ORAL RECONSTRUCTION FOUNDATION

WISSENSCHAFT & PRAXIS