step 1
Perform Cone Beam Scan and open DICOM data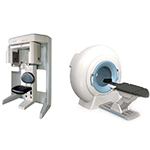 smop allows dentists and dental technicians to plan implant cases based on Cone Beam or CT data and to obtain precise drilling templates for the use during implant insertion:
Without significant investments and with an easy learning curve
no preparation (no scanning template) needed before Cone-Beam / CT Scan
data can be transferred with one click
smop can directly be used as a viewer
step 2
Prepare the data and plan the implants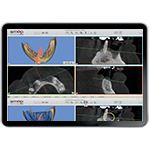 smop allows you to determine the optimal implant position, taking the existing bone as well as the planned prosthetical position into account.
intuitive planning software, learning by doing
easy exchange of your planning data via the Internet with colleagues, the dental lab or other service providers
open interfaces to CAD/CAM
short processing times
step 3
Design and print the surgical template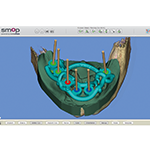 After the treatment strategy is clear and all implants are planned, the dentist can order the drilling template by clicking on an order button.
Swissmeda, a local service center or the dentist himself can now use a special software that allows to design the drilling templates based on the individual needs, following the individual treatment strategy.
After this digital template is validated by the dentist via the software, the surgical stent will be printed by a 3D printing center of your choice.
the drilling template can be designed digitally

a new 3D printing process to manufacture the drilling templates is used
short processing times
step 4
Surgery – using the template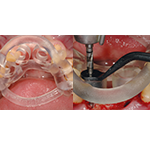 Through the new special design the printed templates fit very well to the stone models and teeth. The light construction results in a good overview for the surgeon. Furthermore the templates do not disturb cooling procedures. In some cases it can make sense to prepare a provisional restoration using the template beforehand.
the template fits very well and precise, gives good overview and allows cooling
it is individually adapted on your needs, and adapted to your treatment strategy
it is open - all available guided kits of all implant systems can be used
Back to the smop-lounge